Technology
Vending Machines in Tampa
Pinto Brothers Vending takes machine technology very seriously. That's because modern advances in vending machines enhance reliability and the overall vending experience.
The Latest Advances in Technology

Mobile Vending Request App
The latest technology to hit our industry, we now offer an app to simplify service contacts. Our machines display a QR sticker that, in the event of a service issue, can be scanned for immediate reporting. This isn't just reserved for management, but anyone engaging the machine. If they have a problem, all they need to do is open our mobile app, scan the QR code and send a message. This can also be used to request new items.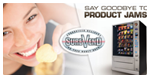 Guaranteed Product Delivery Systems
Our machines feature many state-of-the-art technologies, such as Sure Vend. This is a guaranteed product delivery feature that utilizes a series of infrared sensors to determine if a purchased product "drops" or not. If not, money is automatically refunded.
Cashless Vending
We give new meaning to "swipe to pay." No more fiddling for change, ironing bills, or rubbing your card's magnetic strip on your jeans. When in PayRange, or about arm's length from the machine, the App automatically connects to the machine and the user simply "swipes" on the smart phone to pay. No personal information is sent to the machine and credit card numbers are managed securely by a PCI compliant processor. We never see or store credit card numbers on our servers.

Wireless
Many of the features of our machines also help us serve you better. Coming soon, our wireless technologies will allow us to see your current inventory without ever leaving our warehouse. Also, we can determine what products are moving and which are not. From this information, we not only are able to serve you more efficiently, but we can also enhance your product offering.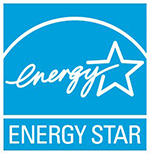 Energy Star
Our machines are Energy Star rated and include energy-saving features like LED lighting. This not only reduces your costs, but your carbon footprint as well.